Mobile Point of Sale
WHY CHOOSE
We believe this is the most advanced and easiest to use Mobile Point of Sale system on the market today for retail businesses. We incorporate a modern Android handheld terminal with 2D Scanner along with an integrated or bluetooth payment module along with our custom POS application.
Premium Quality

Both the hardware and software breathes quality

User Friendly

By building our software on an Android platform, everyone will be familiar with the interface and then we've used our own design skills to allow for ease of use with limited training required

Powerful Administration

The mobile POS is tied in real-time to the backend ERP system and other fixed terminals in the store and we have provided many administrative capabilities which can be accomplished while you are on the floor and away from your desk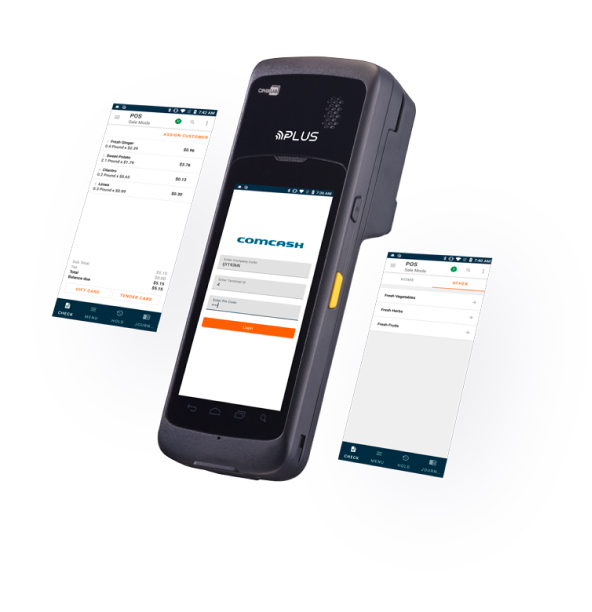 With this app you can
Manage all aspects of a retail checkout experience that you would expect to handle on a fixed register
Scan Products

Select Products from a Menu

Take all forms of Card Payment
DOWNLOAD OUR APP
The app's name is COMCASH MPOS and is available on the GOOGLE PLAY Store. You will be charged your standard POS subscription fee. You can run this app as well as the Comcash Counts inventory app on the same device.
Just add a Hera mPLUS and or Zebra TC-21 with ID Tech Bluetooth VP3300 and you have a fully functioning mobile computer. Use a Zebra TC-26 and run remote from WIFI on your cellular network. You can also add the optional pistol grip.
We continue to enhance and update the app with new features and functions and look forward to your feedback.